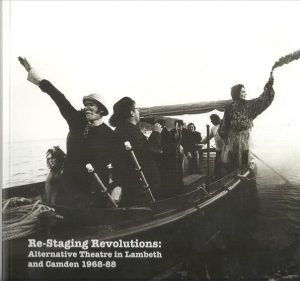 Re-Staging Revolutions: Alternative Theatre in Lambeth and Camden 1968-88
The exhibition book is in full colour and features a wealth of photos and flyers from work of the period, including material on all those companies featured in the exhibition and more, along with the exhibition panel text by Susan Croft, drawing on contributions from project volunteers looks at the cultural context in which the work emerged, how protest and performance were linked, funding, touring, as well as the many areas of alternative theatre activity from experimental work to new writing, Black and Asian theatre to theatre in prisons, as well sections exploring the importance of the boroughs of Lambeth and Camden to the work. There is also a foreword by Tony Robinson, a short essay by Danny Braverman, a bibliography, further information on the history of Ovalhouse, the career of Kate Crutchley and the work of Unfinished Histories. While its focus is on companies who had a connection with the two boroughs, their work had an influence and a reach that was national and international and the book is relevant to the whole movement.
Design: Mark Bromley www.markbromley.net
Handling charge including P&P within UK: £13.00 (includes a donation to the work of Unfinished Histories)
NB Orders outside the UK will incur additional postage cost. Please email contact@unfinishedhistories.com for details.
You can also pay by sending us a cheque made payable to Unfinished Histories Ltd to: Unfinished Histories,
c/o 19A Ravensdale Rd, London N16 6TJ
The publication of this book is supported by Heritage Lottery Fund and Rose Bruford College of Theatre of Performance.